How Aloe Vera Can Keep Your Skin Looking Healthy and Beautiful?
Aloe vera is one of the most popular plants known for its widely ranged health benefits.
The plant produces a gel-like substance that is renowned for its healing abilities. In particular, many people use aloe vera in case of sunburns, rashes, and small cuts.
You can also use aloe vera for dry skin problems since it has a substantial amount of water in it. However, it is suitable for oily skin as well.
A number of people use aloe vera on their faces. When used in the right manner, the properties of this plant can help cleanse your face and rejuvenate your skin. The gel-like secretion from the plant is understood to be anti-bacterial and anti-inflammatory. This makes it great to use if you have inflammatory conditions. While the benefits of aloe vera in Ayurveda are plenty, it's important that you consult a doctor to understand if the application could potentially trigger any allergic reactions.
Some people also benefit from using aloe vera in a slightly diluted form, by mixing it with a regular Ayurvedic moisturizer or using it as part of a face pack. Either way, the ayurvedic benefits of aloe vera cannot be overlooked, which is why this product needs to be in your beauty arsenal.
It's been a few days since summer kicked in, and you're itching to get to the beach for a nice swim in the ocean and a lazy, luxurious lay on the beach. You get there only to discover you forgot the sunscreen at home. No matter, the sun isn't hot, anyway. Or so you think. The next day you awake to scorched skin.
You'd be pleased to learn Aloe Vera can come in handy in such cases. Aloe Vera has anti-viral, anti-fungal, and cell-regenerative properties to keep your skin healthy. Read on for how to use Aloe Vera for face and skincare regimens.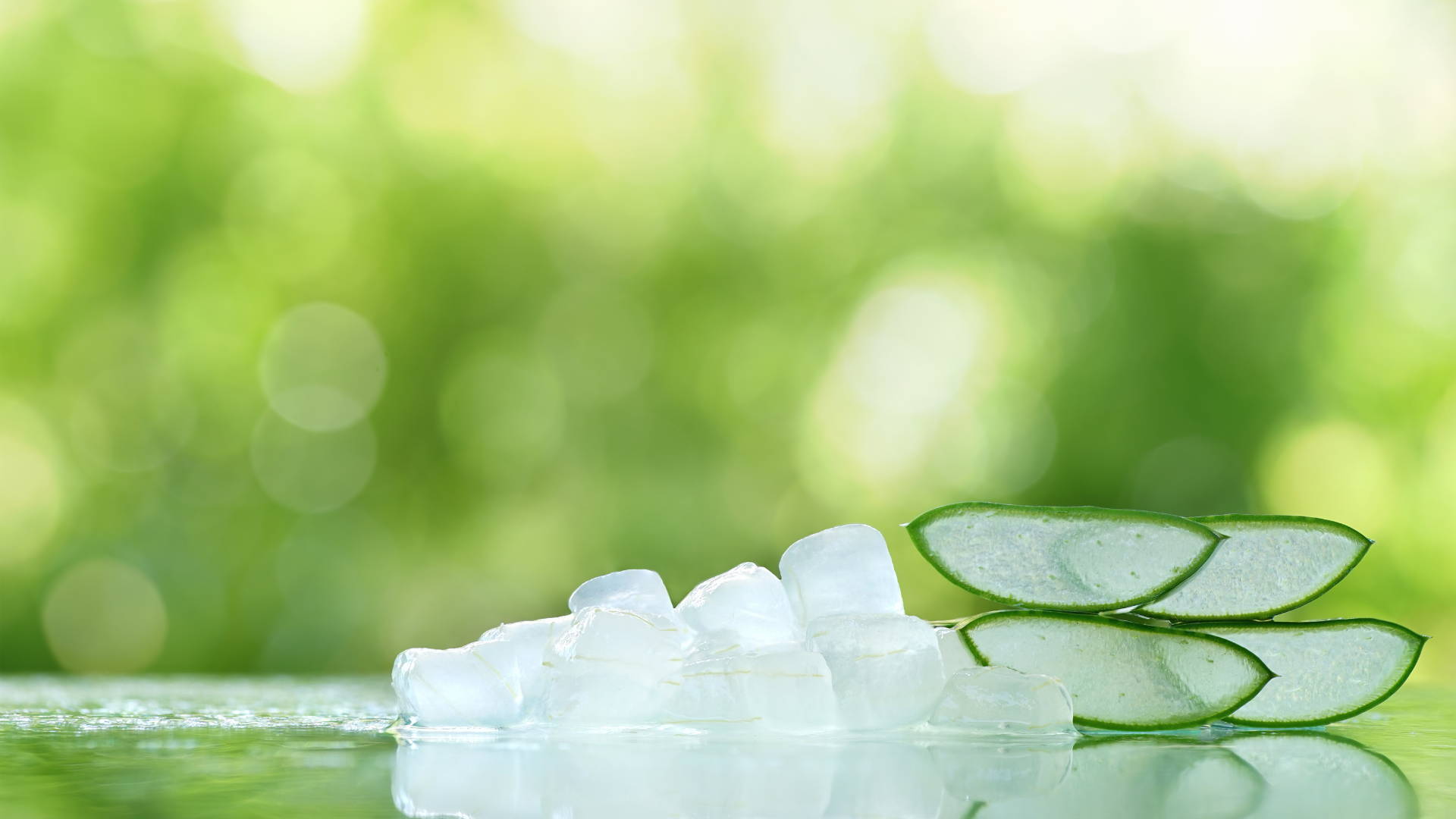 Aloe Vera Benefits for Face
Cleanses the skin as it has the power to transform your skin to the state it was in the previous day. If you use a natural cleanser that contains Aloe Vera, it can restore your skin by clearing any dark spots, acne, sunburn, or pollution build-up.
One of the uses of Aloe Vera for skin includes skin exfoliation. It contains salicylic acid which is a skin-exfoliating agent. Aloe Vera also contains lignin, which improves the penetrative effect of the other ingredients.
If you desire great-looking skin, it's time you try Aloe Vera. The salicylic acid in Aloe Vera contains anti-inflammatory and antibacterial properties that unclog and prevent bacteria from creating build-up, leading to blackheads and pimples. It can keep acne, blemishes, and scars at bay, leaving you with spotless skin.
You are likely to see a reduction in skin irritation after putting Aloe Vera on your face. Aloe Vera contains acemannan compounds that have powerful cooling effects. They help soothe inflammatory issues such as heat boils, redness, rash, cysts, infection, and itch.
Aloe Vera moisturizes skin as it acts as a glue, locking in moisture in the skin. It contains 95% water, hydrating the skin too. It works great for sensitive and oily skin.
It has antioxidants in the form of Vitamins A, B12, C, and E. They protect the skin by limiting free radical production that damages your skin cells. The result is healthy-looking skin.
Finally, Aloe Vera slows down the skin aging process. Older skin starts to lose elasticity, looking saggy, and wrinkled. Aloe Vera steps in by restoring the skin's elasticity and radiance while ironing away any fine lines and wrinkles.
Aloe Vera Uses for Face
Aloe Vera, by itself, has excellent remedy properties. If you want to unleash its properties and get it to work on other skin disorders, you have to mix it with other complementary ingredients. Below are some of the tips and recipes on how to use Aloe Vera for the face.
Aloe Vera Dry Skin Face Pack
One of the uses of Aloe Vera for the face is using a face pack for dry skin. It is a nifty way of making dehydrated and patchy skin look supple and plump. It would be best if you had:
1 tablespoon Aloe Vera gel
1 sliced cucumber
1 tablespoon honey
Procedure
Blend the cucumber to a paste
Add the honey and Aloe Vera and blend until they mix
Apply the mixture evenly as a facial mask and on your neck and let it settle in for at least 20 minutes.
Rinse thoroughly using lukewarm water.
Aloe Vera Oily Skin Face Pack
This face pack solution is brilliant at scraping off excess oil from your skin. Not only that, this is the best way to prevent acne. What you require is:
Aloe Vera gel
10 – 20 drops of tea tree oil
Procedure
Whisk the fresh aloe Vera gel by adding the tea tree oil until they form a smooth paste
Apply the mix all over your face and let it sit overnight
Use lukewarm water to rinse it off in the morning
Repeat at most two times a week
Normal or Sensitive Skin Aloe Vera Face Pack
One of the Aloe Vera uses for skin includes moisturizing and skin brightening. It has proved effective in relieving skin itch, and rashes, and improving elasticity while working for all skin types, including sensitive skin types. Ingredients include:
2 tablespoons Aloe Vera
1 banana
Few drops Rosewater
Procedure
Mash the banana in a bowl
Add the Aloe Vera gel and Rosewater
Whisk to a paste
Wet your face & apply the paste.
Rinse when it dries
Moisturize adequately after
Can I apply Aloe Vera on my face daily?
It's not a bad idea to use daily because of its excellent moisturizing properties. If anything, most commercial night creams, cleansers, and moisturizers use Aloe Vera in their skincare products. Even though it's great for delicate skin, always consult with an expert if you have a previous history of allergies.
The healing properties of Aloe Vera are one of nature's not so well kept secrets – just like the wide range of Ayurvedic herbs that help support our overall wellness. We hope this blog helped highlight some of the most common uses of Aloe Vera. Browse through more such articles in our blog section.